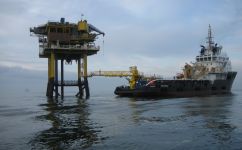 Offshore Access Systems (OAS)
For Presign we detail-designed their invention of an access bridge to be placed on-board offshore supply vessels. The OAS gives safe walking access to offshore wind turbines independent of waves, current and wind for regular checking and maintenance. Costly, hazardous helicopter operations are avoided.
Client: Presign2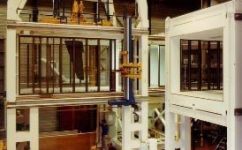 Windtunnels Test Section

In the test-section of the NLR Windtunnel aircraft models are manipulated in the air stream, as in real flight. All forces acting on the aircraft are measured continuously. The aerodynamics of cars buildings and other objects van also be tested in this windtunnel test section. (LST-NLR).
Client: NLR-DNW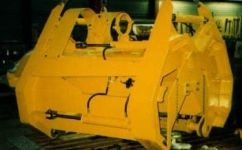 All-Seas Engineering Pipe Recovery Tool

For All-Seas pipe-laying vessels, Praxis designed a remote-controlled 'Pipe Recovery Tool ' (P.R.T.) that is able to clamp itself onto an abandoned a gas or oil pipe left on the seabed ( up to a depth of 500m). The vessel can retrieve the pipeline by pulling the pipe end back on board directly in the firing line with 130t of pulling force in a short time and resume its pipe-laying.
Client: All Seas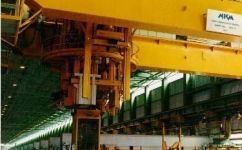 Aluminium Smelters Mechanization

In Aluminum Smelters all over the world mechanization is an important issue for improvement of productivity and to avoid operators having to work in hot, dusty and risky conditions. Large cranes with robots to operate the ovens were designed as well as all other cranes and tooling; anode cranes (pictured), pot/tending cranes, jacking frames, transfer cranes and overhead cranes (250t). 
Client: NKM/ Venalum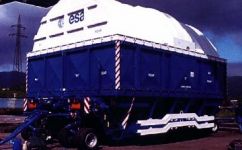 Ariane Second Stage Container Carrier

Container developed for Astrium, in which the second stage of the Ariane 5 Rocket can be transported shock free and airtight to the launch-site in Kourou. The designed includes all handling tools for loading/unloading and positioning of the stage onto the Ariane 5 booster rocket.
Client: Atrium Bremen / ESA / Genius Klinkenberg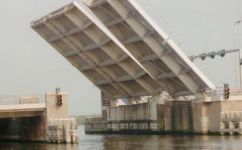 Bascule Traffic Bridges

Some of many steel cantilever bascule traffic bridges were designed and engineered by Praxis. This is also includes the driving systems for the opening and closing of the bridges. 
Client: Genius-Vos / Provincie Noord-Holland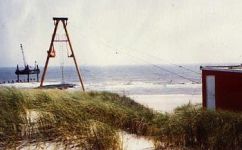 Cable Lift

In order to solve the problem relieving the crew of an off-shore platform standing in the breakers of the surf Praxis designed a cable lift with an one-person chair spanning over 200 m distance. 
Client: Nelis Aannemers Maatschappij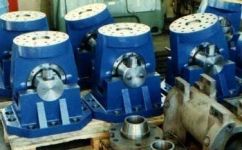 Cardanic Supports

Very large cardanic supports for a full-scale earthquake simulator, carrying complete buildings and extreme loads. 
Client: Hydraudyne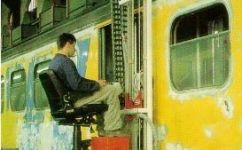 Celcoat Peler (Grinding Robot)

A study was carried out for the Dutch Railways (NS) to solve the problem of the labour-intensive grinding of the sides of railway carriages, during long-term maintenance. This was generally done using hand carried machines. Costly and heavy work. As a result of the study, Praxis Engineering proposed to robotize this job, using an existing principle. After testing, the system was successfully implemented.
Client: NS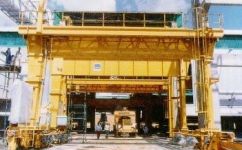 Crane Traverse Bridge

Praxis designed this Transfer Gantry for 250t load overhead cranes for Venalum Venezuela. This is only one element of the total mechanization of this aluminum smelter.
Client: NKM / Venalum Venezuela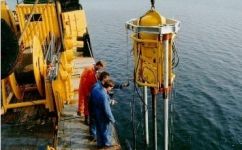 Deep Sea Vibro Corers

A series of deep-sea Vibro Corers were developed for sampling the seabed up to core lengths of 10 m. Operation remote controlled. Electrically or hydraulically driven. Many are in use for off-shore geologic survey.
Client: Rijksgeologische Dienst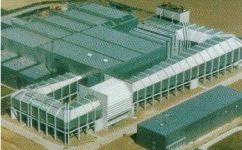 Dutch Aerospace Laboratory Wind Tunnel

The Netherlands Aerospace Laboratory (NLR) operates a large windtunnel for general windtunnel testing  and aircraft development. This windtunnel is completely engineered by Praxis, including test section and mechanical instrumentation.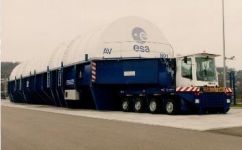 ESA Ariane 5 Containerized Transporter

The Ariane-5 rocket stages are produced in Paris (France). They are launched in Kourou. A containerized transporter was developed for the transport-phase over land and by ship. The very stringent requirements for protection against shocks, external environment, moisture, dust, heat etc. were all met by Praxis. All Ariane-5 stages are transported by this system. The convoy length is 46m weighing 95t. 
Client: Genius Klinkenberg/Ariane –Espace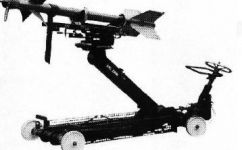 F-16 Missile/ Bomb Loader

For use by the Royal Dutch Airforce a design for a F-16 missile/bomb loader was made. Heavy handwork is replaces by simple and accurate manipulation via handwheels. The job is done faster and safer with less effort.
Client: Genius Klinkenberg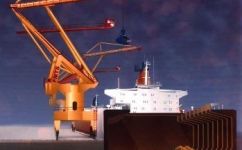 Grab Crane

Thanks to several innovations and inventions by Praxis grab-cranes for (un)loading bulk carriers are built cheaper and operate more efficiently than existing types. Grab capacities of up to 25 tons. With an extra feature on the jib, the crane van quickly change over from bulk to full container operation.
Client: HTJ International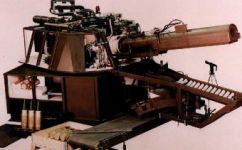 Howitzer Crew Trainer

A full-scale howitzer simulator for crew training Designed by Praxis for use the Royal Dutch Army, who has 15 units in operation. Hydraulic/electric drives, combat electronics and software by the Royal Dutch Army.
Client: Van Halteren Metaal/ Koninklijke Landmacht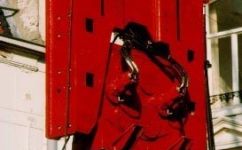 Hydraulic Vibrators

Hydraulic vibrators can bring large steel or concrete piles into the soil for support of buildings, bridges, etc. All existing vibrators operate at 1500 revolutions per minute. The cannot operate in vulnerable environments such as historic city centers . A high-speed (3000 rpm) vibrator for pining was successfully developed in order to solve this problem.
Client: Woud Wormer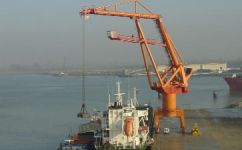 Lemniscate Crane

Based on the well-known lemniscates principle this crane for grab duty is a totally new design. Essential items are patented. With the latest mechanical technology and design this crane van be produced and operated 25% cheaper compared to its present rivals.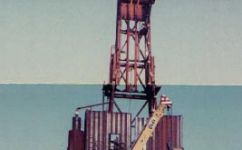 Mobile Drilltower

A drilling tower specially designed for quick/cheap mobilization. This has become more and more a necessity in order to search and exploit marginal fields of oil and gas.
Client: Deatag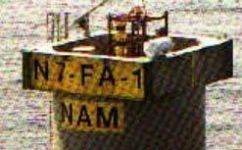 Mono Pile Offshore Platform Support

The revolutionary Mono Pile is a single pile to support small productions platforms in shallow coastal waters (upto 30m dept). Just as unique as the method to install it on site; taking less than 24 hours to be ready for topside installation.
Client: Genius-Vos / NAM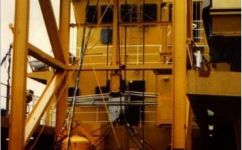 Moonpool Crane

Moonpool crane on a survey vessel for geological research. The crane lowers diving bells and other equipment via the moonpool into the sea.
Client: Rijkswaterstaat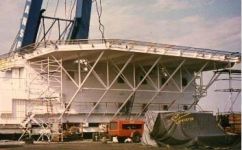 Off-shore Helicopter Platform

Praxis Engineering designed this aluminum helicopter platform that is placed on an off-shore oilrig.
Client: Bayards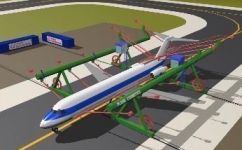 Praxis Plane De-icer

A patented design for semi-automatic de-icing of civil aircraft. In only 30% of the time of traditional methods and half of the cost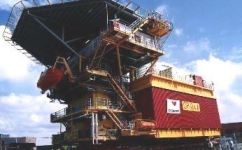 Q4-A Transportation/ Lifting Facility
All five facilities for lifting, transporting and temporarily and supporting the topside and jacket of the Q4-A platform for refurbishment on-shore in Ijmuiden. Modifications were also carried out by Praxis.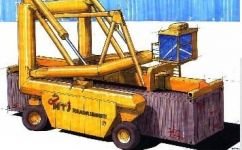 Road Runner

Totally new development of a container carrier with the limited tasks for improved capacity in containers per hour delivered to /picked up from container cranes. Higher speeds, lighter constructions, cheaper in operation and lower investment. Patented mechanisms for lifting and ideal low position of the operators cabin.
Client: HTJ International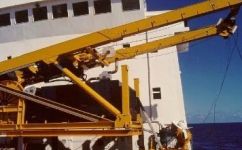 Self-Propelled Deep Sea Winch

For a deep-sea research up to depths of 14 km(!) Praxis designed a self-propelled winch. The Crane is telescopic  and folds into a standard 20" container for use on any research vessel (wich all have container slots on deck). The winch-drum contains 14 km of kavlar cable and puts a load of 10 tons on the seabed. It is in use on all oceans of the world.
Client: Rijksgeologische dienst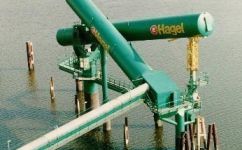 Ship Loading System

A unique dust-free and very environmentally friendly ship-loading system for ureum powders. All material transports from land storage to loading-point are fully enclosed. Total flexibility to move the discharger to any point of the ship's hold.
Client: Hagel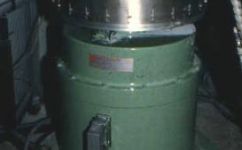 Small Manipulator

This small manipulator holds 52 tools implant bits. Each of these implant bits is presented to and rotated in front of a high temperature plasma spray gun, applying a ceramic layer.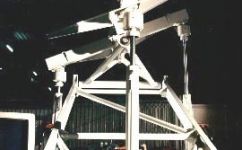 Space Flight Simulator Motion Frame

Many motion systems are in use for leisure and entertainment. A complete motion system ( 3-D.O.F.) with a passenger cabin to be mounted on top offer 15 people a virtual journey into space. Mechanical design carried out by Praxis.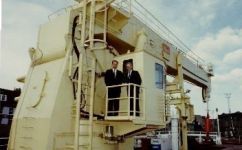 Telescopic Naval Crane

For a highly specialized ocean-diving vessel Praxis designed a telescopic 50t crane that lifts and lowers manned diving bells and subs from and into the sea. Even in bad wetter conditions. The extreme demands in reliability and safety were met by our design.
Client: Gray-McKenzie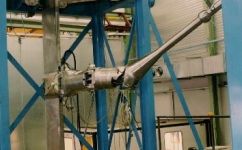 Windtunnel Model support/ Manipulator

Among several projects for windtunnel instrumentation, Praxis detailed the engineering on the model-support for the German/Dutch Large Windtunnel  facility. Fixed to this support is the actual aircraft model. The model-support is in fact a high-tech manipulator that can produce all sorts of aircraft model. The model-support is in fact a high-tech manipulator that can produce all sorts of aircraft movements; form Boeing-747 behavior to fighter combat movements.
Client: Genius Klinkenberg